Dans un peu plus d'une semaine débutera l'un des meilleurs festival européen de musique 50's.
28 artistes venus de 11 pays différents, avec une grosse cargaison d'artistes américains, qui cette année sont venus en force. Je ne peux que déplorer qu'aucun représentant français ne soit programmé (comme Al Willis, ou les Spunyboys pour ne citer que le haut du panier), mais bon, cette année encore il y a une très belle affiche.

Avec en gest Joe Clay, accompagné par The Wise Guyz....



La diversité fait partie de la programmation, du Rock And Roll au Rockabilly en passant par le Doo Wop, une touche Rhythm And Blues, voilà le cocktail qui nous fera bouger pendant 6 jours sous le soleil de la Catalogne, ambiance assurée (Anglais obligatoire).
A l'affiche :

JOE CLAY (USA)
JOHNNY FARINA (From Santo & Johnny) (USA)
JIMMY VAN EATON (Sun Records most recorded drummer) (USA)
LINDA GAYL LEWIS (USA)
DARREL HIGHAM (UK)
THE DELTA BOMBERS (USA)
THE WISE GUYZ (UKR)
JOHNNY BACH AND THE MOONSHINE BOOZERS (UK)
PAUL ANSELL (ELVIS NASHVILLE SESSION SHOW) (UK)
IKE AND THE CAPERS (GER)
RUNNIN' WILD (BEL)
CHERRY CASINO AND THE GAMBLERS (GER)
AISHA KAHN (UK)
JOAKIM TINDERHOLD (NOR)
THE EXTRAORDINAIRES (UK)
JOHNNY HORSEPOWER (DK)
BABE MILLER (USA)
JOHN LEWIS (UK)
WHO SLAPPED GENE (DK)
CRYSTAL AND RUNNIN' WILD (BEL)
WILD WAX COMBO (DK)
MOLLY MOONSTONE (FIN)
THE FOUR CANDLES (ALL STAR DOO WOP SHOW) (ESP)
THE KABOOMS (SP)
SHOTDOWN FROM SUGARTOWN (AUSTRALIA)
RIC AND THE DUKES (SP)
SIXTEEN AND THE SIDEWINDERS (UK)
LOU FERNS (USA)

Plus d'infos sur le site du festival Screamin Festival #18

Avec des shows qui finissent à 4h00 du matin (le vendredi par exemple), il faut avoir la santé...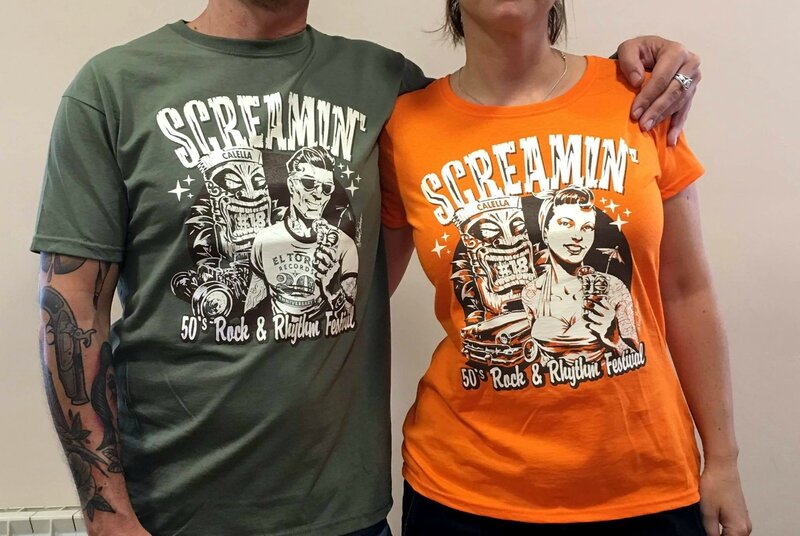 Demandez le Programme !